"This boy is going to grow up to be a guitarist!" 
Chris Stark was 5 years old and still living in Southern California next door to Spanish guitar master Antonia Morales. She made this bold claim after the youngster sat and unflinchingly watched her play her instrument. 
Shortly thereafter, Chris and family uprooted from cool coastal California to the lush and balmy Big Island of Hawaii. It would be another several years before Chris would bring Ms. Morales' prophecy to fruition. However, by the time he picked up the electric guitar, a teenaged Chris already had a strong vocabulary in Led Zeppelin, Jimi Hendrix, Cream, Jeff Beck, Pink Floyd, The Who, and Peter Frampton from his parents' collection of vinyl LPs.  
As fate would have it, the tsunami of 1980s shred guitar was just starting to crest as Chris learned his first chords. A new era of guitar slingers including Joe Satriani, Kirk Hammett, Eric Johnson, Stevie Ray Vaughn, and Steve Vai caught his attention and inspired him to practice for hours every day.   
Chris would go on to study music and eventually earn his undergraduate degree in music, with a focus on composition. Throughout his college days, Chris played in several bands while living in metropolitan Honolulu. He contributed guitar work to local artists' albums, independent film soundtracks, and television commercials. Chris also toured Japan and Europe as a hired sideman for a local metal band in need of a short notice replacement for a band member who was unable to travel at the time. 
In 2009, Chris and his wife moved from Honolulu back to his home island when offered a job with one of the world class telescope facilities located at the summit of Mauna Kea, the world's best astronomical observation site. While the isolation of the Big Island initially meant a sharp decline in performing, it also provided a perfect environment for songwriting. 
As of 2022, Chris has released five full-length instrumental rock guitar albums on CD and all of the major streaming services, all of which were recorded and produced from his home studio. His latest album "Juxtaposition Reimagined" is a re-envisioning of his 2017 sophomore album "Juxtaposition" and features a dramatically expanded tonal palette, vastly improved mix, and more focused guitar and bass work.
His 2019 album "Electric Sky" was a finalist for the 2020 "Instrumental Album of the Year" for the Hawaii Academy of Recording Artists' Nā Hōkū Hanohano Awards which is the highest award for Hawaii-based musical artists. 
Lately Chris has been performing monthly live streamed concerts via the StageIt streaming platform.
Sign up to the mailing list to be notified when there are new songs to download, new StageIt concerts, new videos on YouTube, and the latest news about Chris Stark's musical projects.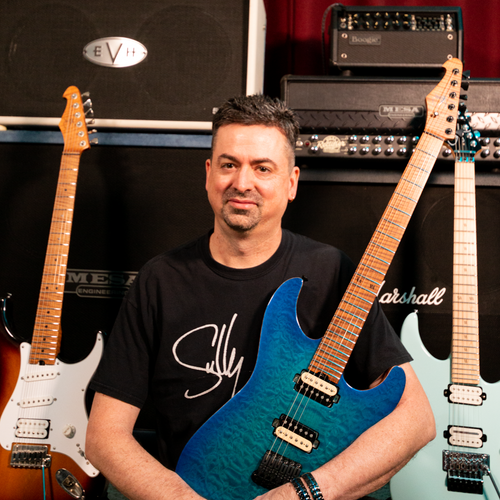 "Hawaii is another place that has hardly been known for acts of note in the rockular field until now. If that be the case, then Chris Stark could be the game changer here..."
-- Dave Attrill, MetalliVille Webzine
"Bearing in mind that this is Chris Stark's first release, I must say that he has come out with a very accomplished release. The album is enjoyable, especially if you like guitar instrumentals all the way through. It's consistent and without any tracks that you would feel inclined to press 'skip' for. This is well worth getting your hands on."
-- Andy Brailsford, Fireworks Magazine